Eric Adams Denies Responsibility as NYC Schools Scramble During Torrential Downpour
Introduction
You woke up this morning to the sound of rain pounding on your window and the emergency alert buzzing on your phone. A torrential downpour swept through the city overnight, flooding streets and subway stations. But that's not what had your phone blowing up. Mayor Eric Adams issued an order for all schools to shelter in place, catching students, parents and administrators completely off guard. Now kids are stuck at schools across the city as parents scramble to figure out how to get them home in the chaos. Adams is trying to backtrack, claiming he never actually gave an official order. But everyone has the texts and recordings proving otherwise. How did the new mayor already create such a disaster just weeks into the job? And how is everyone going to get out of this mess? You're about to find out.
Historic Rainfall Wreaks Havoc Across New York City
The record rainfall that pounded New York City this week was epic, with over 5 inches falling in Central Park in just a few hours. Many parts of the city were paralyzed, and schools were thrown into chaos trying to get kids home safely.
Mayor Eric Adams initially denied that his administration told schools to shelter in place, causing confusion and delaying students for hours. Principals were left struggling, unsure whether to release students or have them remain at school until the deluge passed. Many parents were furious, stuck at work and unable to pick up their children who were stranded at schools across the city.
The subway system flooded, grinding the city's transit to a halt. Videos of waterfalls in subway stations and people kayaking in the streets flooded social media. The heavy rain even caused a partial building collapse and power outages across the city.
Once the rain finally moved on and transit began operating again, the finger-pointing began. Adams claimed his team "did not issue a formal directive to shelter in place," while schools superintendent David Banks insisted principals were following guidance from City Hall.
Caught in the middle, students endured a long, frightening day. The city was unprepared and overwhelmed, and its leaders failed to take responsibility, leaving citizens questioning how New York will handle the next crisis. One thing is clear – better communication and coordination are desperately needed. Our kids deserve nothing less.
Mayor Adams Issues Controversial "Shelter" Order
Mayor Adams tried to wash his hands of responsibility after issuing an order for students and staff to shelter in place during record rainfall turned NYC schools into chaos.
Shelter Order Backfires
When over 5 inches of rain pelted the city in just a few hours, Mayor Adams told all schools to keep students and staff inside until further notice. The controversial edict ended up causing mayhem as kids were stuck for hours without access to food, bathrooms or transportation home.
Parents slammed Adams, claiming the shelter directive only made conditions worse and put children in danger. "My son called me panicking because the power had gone out, the toilets were overflowing and the school had run out of food," said one angry mother. "The Mayor's decision was irresponsible and turned an already difficult situation into a disaster."
Adams denied culpability, insisting the order was meant to ensure student safety during the dangerous storm. But many argue that releasing students would have allowed families to pick up their kids and get them to shelter, food and working facilities. The Mayor's misstep highlights the need for a more comprehensive emergency plan to prevent future fiascos in NYC's schools during extreme weather events.
While no one could have predicted the intensity of the record-breaking deluge, the city must develop better contingency plans for getting students home quickly and providing aid in the event of power outages, food shortages or sanitation issues. Our children deserve nothing less to ensure their well-being even in the worst of circumstances. Let's hope Mayor Adams and the Department of Education learned from this mishap and will be better prepared for the next time the skies open up over NYC.
NYC Public Schools Forced to Scramble During Downpour
The torrential downpour that hit New York City recently caused massive disruptions across the city, including for the public school system. As rain pounded the city, NYC public schools were forced into a messy situation, scrambling to enact emergency procedures to get over 1 million students home safely during the deluge.
Mayor Eric Adams denied issuing an official "shelter in place" order for schools that day, claiming principals acted independently. However, many parents argue the Department of Education should have had emergency plans in place for such extreme weather events to prevent the disorder that ensued.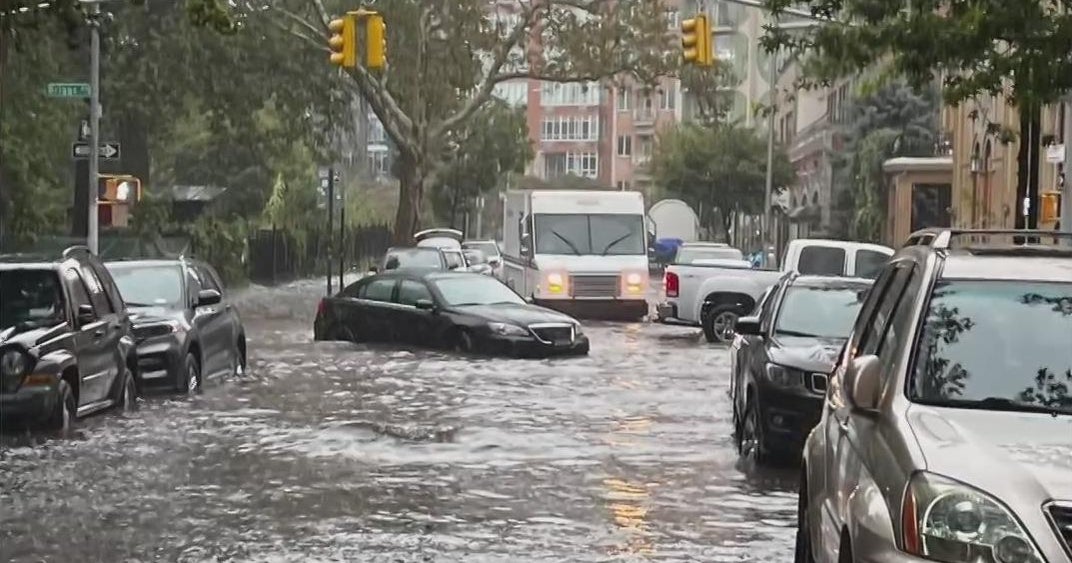 Chaos for Parents and Students
Parents reported a lack of communication from schools about how students would get home, leaving them distressed, confused and searching for information. Many schools ended the day early, but some students were stuck waiting for late busses in the pouring rain. Others had parents who couldn't leave work to pick them up. The DOE's absence of concrete emergency procedures and contingency plans caused unnecessary chaos during an already stressful situation.
Lack of advanced communication: Schools should have alerted parents to emergency dismissal plans before heavy rains hit.
No concrete procedures: The DOE failed to provide schools with standard emergency plans for extreme weather, leaving principals to improvise.
Students left waiting: Some schools released early but busses didn't arrive for hours, leaving students stranded.
While no system is impervious to the effects of a natural disaster, many argue the DOE and Mayor Adams should take responsibility for their lack of preparedness in this situation. Emergency planning could have mitigated risks to students, decreased confusion for families and prevented an already hazardous situation from devolving into pandemonium across the city. The DOE has pledged to review how they handle emergency weather events going forward – an important step to rebuilding trust with parents and ensuring student safety.
Mayor Adams Backtracks, Denies Issuing Shelter Order
Mayor Eric Adams is backtracking after chaos ensued in NYC schools following his announcement to take shelter during a torrential downpour. On Tuesday morning, Adams urged New Yorkers to "take shelter" as the city was slammed with historic rainfall, leading many to believe schools would be closed. However, Adams now denies actually ordering schools to close or calling for a shelter-in-place, insisting his message was misinterpreted.
Confusion and Disarray
Many parents kept their kids home from school on Tuesday anticipating closures due to the inclement weather after Adams' warning. At the same time, some schools remained open while others closed, leaving students, parents and staff unsure of what to do. The lack of clear direction caused widespread confusion, disarray and frustration across the city.
Adams Deflects Blame
Following the disorder, Adams denied responsibility for the mess, claiming he never explicitly told schools to close or called for people to shelter-in-place.
Calls for Accountability
The chaos on Tuesday has led to calls for increased accountability and better communication from the Adams administration during emergencies. Critics argue the city needs a more comprehensive plan to coordinate emergency response across schools and city agencies to prevent future disorder. There are also demands for Adams to take responsibility when his leadership causes confusion instead of faulting others.
Adams' attempt to dodge culpability for the disarray in schools following his "take shelter" announcement has only intensified backlash from those demanding accountability and clarity from his administration during crises. While the historic rainfall was outside of his control, Adams' ambiguous warning and subsequent denial of responsibility has left many questioning his leadership in times of emergency. Clear communication and coordination will be key to regaining trust from New Yorkers.
Schools Left Confused as City Fail to Coordinate Response
As torrential rains pounded New York City, schools were left scrambling without clear direction from Mayor Eric Adams on how to respond. Many parents and students were confused by the lack of a coordinated effort across the city's vast school system.
Confusion Reigned
While some schools closed early in the face of flash flood warnings, others remained open until the end of the normal school day. The Department of Education issued a statement around midday saying schools were staying open, but principals could make their own decisions based on local conditions. This ambiguity left many principals unsure of the right course of action.
Some schools lost power or phone service, leaving parents unable to contact their children's schools directly. "I had no idea if I should pick up my kids or not," said one worried parent. "The city should have made an official announcement to close all schools in this weather instead of this piecemeal approach."
Finger-Pointing Followed Flooding
As the waters receded, city officials engaged in a blame game over the botched response. Mayor Adams denied issuing an order for schools to shelter in place during the storm, saying "we gave schools discretion." However, several schools reported receiving phone calls from a "shelter in place" message they believed came from the Mayor's office.
Schools Chancellor David Banks said he took responsibility for communication issues, but also said "we could have done better in getting information out." The lack of a cohesive emergency plan left schools at the mercy of a torrential downpour that brought the city to its knees.
In the aftermath, parents are calling for an independent review of how city agencies coordinate during extreme weather events to avoid a repeat of the confusion. Students deserve schools that keep them safe in any circumstances. The city must make major improvements to prevent future chaos in times of crisis.
Conclusion
So there you have it, New Yorkers. Your new mayor tried to pass the buck during his first real crisis and threw the whole city into disarray in the process. The schools descended into chaos for no good reason while parents everywhere scrambled to figure out what was going on and get their kids home safely. Let's hope the mayor and his team get their act together quickly and start communicating clearly during emergencies, otherwise it's going to be a long four years. The kids (and parents) of this city deserve leaders who take responsibility, tell it like it is, and have a solid plan in place when the storms come rolling through. Mayor Adams, the ball is in your court.